Rift has won itself a place in the Guinness book of World Records for the most amount of marriages in 24 hours! As part of a Valentines special event, Rift developers invited players to take part in the World Record attempt.
All Ascended Weddings logged between 9am PST on Feb. 14 and 9am PST on Feb. 15 will be counted toward our attempt at setting the Guinness World Records® Title for Most Online Weddings in a 24-hour period. Everyone who participates will receive the in-game title, "Tier of Knots."

Original here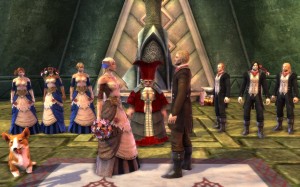 21,879 couples got married within this time period, and claimed the World Record as theirs! This means that nearly 44,000 people virtually tied the knot in one day.
Establishing this record was a monumental achievement for our development team and community of passionate players, and I couldn't be more proud," said Scott Hartsman, Executive Producer on Rift and Trion's CCO. "Ascended Weddings were a great way to lift the veil on Rift's new 'Gatherings' feature, social experiences that bring players together in new and interesting ways. We look forward to expanding this great new gameplay element in the always-evolving world of Telara.
Source: MMORPG.com