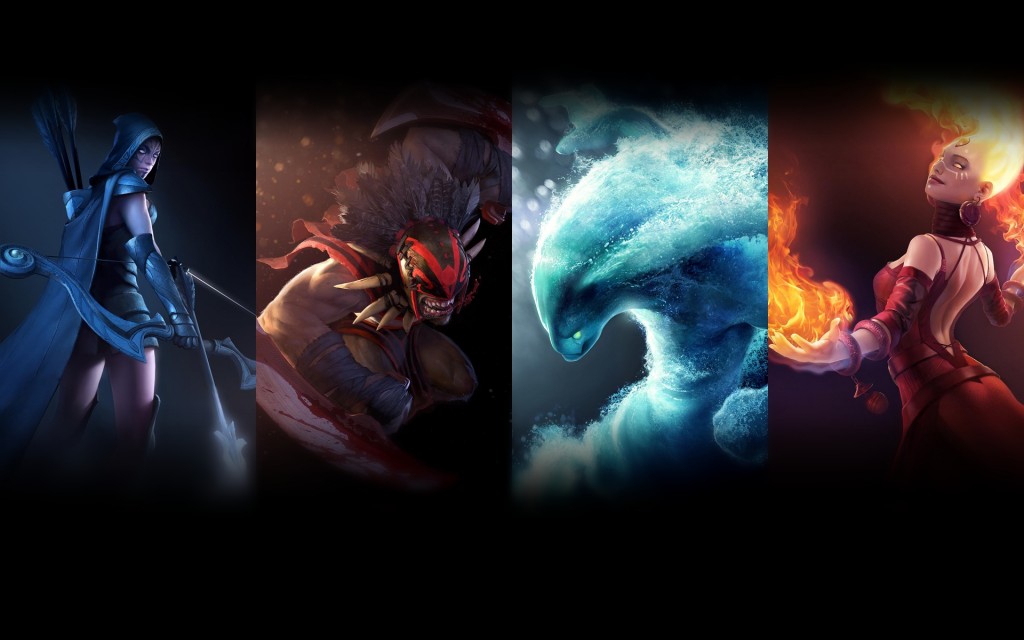 So I am sure you are aware of the recent Lawsuit filed against Valve by Blizzard, you can find the legal documents from this article. Who really wasn't expecting this though? If you are new to the situation, then here is the low down from the beginning.
On the 5th October 2009 Icefrog announced that he was then leading the team at Valve, and had acquired the resources to do some "really exciting stuff" and looked forward to revealing more details when the time was right. You can see the post on Playdota.com. This immediately instigated speculation. At the time, there was no real evidence to prove that Valve was working of their own version of DOTA. However, more information came about in August 2010, when John St. John, the voice of Duke Nukem tweeted:
"Had a great time in Seattle last week recording for DotA. The guys at Valve Software are awesome!"
This tweet was removed almost as soon as it had been posted, but like all other popular tweeters, the damage was done. Why else would this tweet be removed if it didn't conflict with a possible non-disclosure agreement? Hard evidence surfaced shortly after when superannuation revealed a link to Valve's trademark registration. The document can be found here.
Gamasutra soon reported that Riot Games had filed a counter for the trademark three days after Valve due to belief that the Warcraft 3 mod should belong to the community, and not Valve Software. In an interview with PC Gamer on 17th August 2010 about the trade-marking of DotA, Steve Mescon voiced his emotions towards the situation
Steve "Pendragon" Mescon:As someone who worked with DotA for years, seeing developers of Valve's caliber take an interest in this genre is always exciting. Hundreds of people have worked on DotA in its many forms over the years, and millions have played the game, and certainly this type of attention demonstrates how far DotA has come.

However, the idea that one single company is taking control of the name of something that hundreds of people have contributed to is surprising. I believe DotA should always remain a community-owned product that modders, independent developers and game fans can continue to modify and play as often as they'd like. Guinsoo and I had hoped that the DotA name would live on in perpetuity as a community project that is both free to play and free to modify and expand.
When PC Gamer asked "Who has the rights to own properties like 'DotA' that started out as a single map, but have evolved into so much more? Do you have insight into the legal side of things?" Pendragon responded with:
Pendragon: I don't know the answer to that question, but certainly the original authors, such as Eul and Guinsoo, and the many contributing authors and companies such as Blizzard, have contributed significantly to the creation of DotA.
Read the whole interview here.
He also stated that should his company DotA All-Stars LLC successfully obtain the trademark, he would ensure that DotA would remain the collective property of the community.
In spite of the opposition, Valve went ahead and produced a sequel to the mod. For a little while, the Internet quietened with regards to the status of the trademark.  Blizzard, in spite of their stance in the whole matter, remained distant from the proceedings. And this is where we get to recent events.
Today, the Internet is once again buzzing with the news of Blizzard's opposition towards Valves claim of the name. According to the notice of opposition issued by Blizzard Entertainment Inc, Steve Feak and Steve Mescon had assigned:
'All their rights in and to DotA Mods and the DotA All-Stars Website to 'DotA All-Stars, LLC' in 2008. Two years later, Riot Games purchased the rights to DotA All-Stars LLC. Now here's the interesting bit. Last year, Riot Games had apparently transferred the rights to DotA All-Stars to LLC, giving them ownership of all rights DotA All-Stars LLC may have had in connection DotA Mods and the DotA All-Stars website, including any trademarks or good will DotA All-Stars LLC may have had in the DotA Marks.'
Blizzard stated a fair number of reasons associated with opposition, within the same notice, which was issued on 16th November 2011. According to the Applicant's Trademark Application segment of the notice, it seems that Blizzard is concerned that Valve filed for the trademark for the 'purpose of appropriating Blizzard's good will in the DOTA marks and in order to confuse consumers as to Blizzard's sponsorship, affliation and/or endorsement of Valve's products'.
The next reason cited was that Valve has no rights in or to the DOTA mark. The reasoning behind is this that Valve has 'never released, distributed or sold any products using the mark DOTA or, for that matter, any of the DOTA marks'. As a result, Blizzard claims that their rights to the trademark is superior to those of Valve's due to the fact that the DOTA Mark has only ever been used in connection with Warcraft III.
Source: RTSGuru.com
Post in this thread your views and feelings towards this lawsuit!